December 23, 2019 NEW!
Added a new track, One Path Left, featuring a guest lead by Kosta V...Apocalypse! February 17, 2019
Updated the Music page with four additional tracks. I Will Not and SoundSlave from our demo, War Cry, as well as a preproduction version of Recoil. Vodka.

July 24, 2005
Good-bye, Skipper! ED played its last show with Scott out in sizzling Brentwood yesterday. 107 degrees. We'll have pictures up soon. Thanks goes out to Scott for the three years of super tight drum-playing he's given us!! We'll be announcing our new drummer shortly. By the way, playing shows without alcohol is like kissing your sister.

July 18, 2005
Early Demise will be playing with Scott on drums for the last time this Saturday, July 23 at the Epidemic in Brentwood. It's gonna be tight, all ages and a wild young crowd. Get there early--ED's on at 7:00pm.

May 24, 2005
Once and For All is currently being rerecordedis currently being rerecorded to be included on the band's next release.

March 21, 2005
Betrayal and Vengeance, the band's latest recording, is now available for download here.

December 21, 2004
Working on two new songs and recording process. Thanks to all who came out to the Pound for the Thanksgiving show. RIP Dimebag.

November 15, 2004
The Saturday 11/27 show at the Pound has been moved to Friday 11/26 due to scheduling conflicts.

November 7, 2004
Congratulations go out to Brian and Carolyn Doss, married Saturday, November 6th!...welcome back, Panos!

October 23, 2004
A couple quick updates: the Nov. 27th show at the Pound has been confirmed, and will welcome Panos back on bass...Also, new mixes of Sonic and Kings and Pawns are up on the music page.

October 15, 2004
Tight, tight...ok news for y'alls. First, start marinating your livers because ED most likely got a show coming up at the Pound on November 27, the Saturday after Thanksgiving. See you there. Should be hella tight. Second, ED got a new sound sample, Kings and Pawns, check it out here. OK, tight.

September 29, 2004
Message from the Diddy in Greece:So I know it's been a while (16 months or so) since I've seen, talked, or heard from many of you, so I wanted to express some quick thoughts to all of you fuckers on what's happening in my little fucked head. As most of you know, I've been in Hellas Greece for all this time and I greatly miss all of you. You have supported me musically, emotionally, and sexually (over the phone) this whole time, and I cant wait until I get back and headbang and thrash with all you crazy fucks. I will be back before any of us know it, so get fucken ready to get crazy (cause you know how we do it). With the trustworthy addition of DouglASS on the vocals, and the for coming C.D. with new tracks and readjusted classics, I know that all of us are in for one hell of winter consisting of manic shows, maybe some beer drinking, and definitely getting absolutely no pussy. E.D. will be in full throttle soon enough. Expect us to be stronger, faster, angrier, tighter, and of course uglier than ever when we show up uninvited to all of your parties. Thank you for sticking with us and for all the support. We will all be at your front door to whip your ass very very soon. Thanks and God bless.
--Mr. Time
ps: SUFFER FOREVER I WILL NOT!!!

September 20, 2004
'Suppers! All apologies to you friends of the Demise for not updating the site lately. Fear not, lots of work has been going on and the music writing and recording is going well...Early Demise played an unannounced surprise show on September 4 under the name "The BAVs" at Bourbon Street and, as usual, it was a drunken celebration of local metal. Doug Vetter filled in on bass and vocals. Pictures are available on the pics page. The show was something of a warmup as the band had not played live in well over a year. Additionally, a new drum trigger mechanism was tested which allowed everyone to hear Scott's fuckups with unprecedented clarity (j/k haha). Expect Panos back at bass in a month with more shows and a cd to follow soon.

June 6, 2004
The bass tab for Sonic Detonator is now available for download on the music page.

June 1, 2004
What's up people across the world. Harry here. As the seemingly endless search for a vocalist nears its conclusion, Early Demise has finished the 6 pieces that will be performed for the upcoming CD which will be available soon. Granted, soon could mean this summer, this winter, or when a Bay Area sports team actually wins a championship (cough, cough, oh shit, raiders, cough OH SHIT, giants). But it will be done. We've still got a bunch of getting tight to do and got put back the last couple months because of the Skipper's sprained ankle (pussy!). Look for shows to start again we're hoping in July. In the mean time, be sure to keep an eye out for Once and for All on KVHS. Stay metal and remember to not to swim with a tuxedo. War the Cal Bears softball team for eating more muni than us, even though we are all losers together!

March 29, 2004
Five out of the six songs to be used for Early Demise's next CD are completed. The boys are still in the process of finishing up one last track, a slow tempo semi-ballad.

March 22, 2004
Panos Pappas telegrammed the following message to you all from Greece: "I really like to listen to Anthrax while I drink a beer! It's a lot of fun and you should try doing it sometime."

February 28, 2004
Songs for the second Early Demise demo are nearly complete. The first will be a faster black metal type song followed by a reworked SoundSlave. Once and for All along with Imagination of an Enemy will be the third and fourth tracks. Finally, a brand new slower instrumental piece will lead into a closing Descent of the Serpent. The boys are confident that this cd will be solid...Vocalist auditions have gone well and the band are close to finding a permanent singer.

January 5, 2004
Two news songs are on the way, Hellbreak and Shadowchrist. I still don't know what's up with all these songs with two words combined in to one.

November 28, 2003
Early Demise has officially started its search for a lead singer. If you or anyone you know is interested, contact us.

November 11, 2003
A vocal-less scratch mp3 file of Imagination of an Enemy is available for your listening pleasure here. There are fuckups everywhere on the song but then again we are fuckups as it is.

November 5, 2003
In response to repeated questions from fans as to why Early Demise has not played a show recently, Scott wants to post the following: "er'body want to know why ED aint playin no mo shows. we try and keep it sucka free around her'e thats why we sent panos to greece. we trying to get shit done and write songs that could make us sound like a real band. if u want to see ED ask for our film footage."

October 23, 2003
The drum track for Imagination of an Enemy was completed on October 21st. Guitars and bass should be finished by early next week...Work continues on Execution Solution, which is over half way completed. The key for this epic has been the development a soft clean channel jam in the middle of the song. This environment represents the Reaper's speaking to God through a lifeless victim: "Thou hath layest your covet upon thy pallid lips...For thy creation is dead for which does not ascend."

October 16, 2003
New song updates: Imagination of an Enemy has been completed. The intro to the song has been played live before several times, but now it has been finalized. Expect a sound file available within a couple weeks...Execution Solution, a conceptual piece based on Niko Mitsopoulos' poem about the Grim Reaper, is roughly halfway done. The band promises it to be an intricate, chaotic epic.

September 19, 2003
Early Demise continues work on three new songs, tentatively titled, Gate 5, Execution Solution, and Imagination of an Enemy. Still no shows scheduled any time soon, but the band expects to restart gigging some time in November... Former bassist, Panos Pappas, sends his regards from Athens, Greece: "..the truth is that I think of the band EVERY FUCKEN DAY that I'm in this 3rd world country...i can barley function without the band, you idiots, creative song writing, beers on a friday night at the studio, metal, and all the girls that we use to get as a band... ps- It took me 45 minutes to do spell check for this e-mail."

August 2, 2003
NEW BASSIST!

Early Demise has recruited bassist and longtime friend Mike Sorria to replace Panos Pappas. Pappas has temporarily left the band on good terms to pursue personal endeavors in Athens, Greece. Although ED have no upcoming shows, they are currently writing new material. The band will stay in the same general music direction but plan to include more continuous aggression in the songwriting.
June 23, 2003
Two more songs are available on the music page. Once and for All can now be downloaded for free in mp3 format (don't worry, you don't have to give up your email address or anything. Just click the link and the song will start)...The other song is a new song--as of yet titleless--produced by Early Demise.
June 22, 2003
Killer show at Bourbon St. last night! A little Early Demise, a little old school Anthrax, and a hell of a lot of drinking turned out to be a great time...thanks to everyone who came out! Thanks also to Lommori productions for setting this up. A review will be posted soon at californiabands.com.
June 6, 2003
Let's do some drinking together at Bourbon Street on Saturday June 21 with Joey Belladonna's band (they'll be doing old school Anthrax tunes--cool!). This show will definitely kick ass. ED will play 3rd out of 5 bands so come early...Tickets are 15 bucks available at Tickets.com. See you there!
May 13, 2003
June 21st at Bourbon Street with Ex-Anthrax Joey Belladonna has been confirmed.
May 8, 2003
Pictures from the 420 Musik Conspiracy are up for your viewing pleasure on the pics page. A lot of fun in the sun and a couple beers made for a great performance...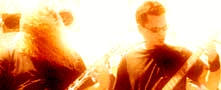 Two new ED songs are on their way. The first, complete save for lyrics, has a catchy main anthem split apart by some Maiden-esque bass guitar. The second has non-stop double kicks which is always good...
Two tentative shows are planned for summer. The first is with ex-Anthrax Joey Belladonna's new band at Bourbon Street (that makes me thirsty) in late June. The band is also hoping to open for The Haunted on June 2nd at the Pound--keep your fingers crossed!
May 5, 2003
Early Demise is currently working on new material...You can download the guitar tab for Once and for All here. Thanks again to all who came out to the 420 gig at the pound in sf.
April 2, 2003
Early Demise will be performing at the Pound Sf on April 19th for the 4/20 music festival. Some of the featured bands include: SkinLab, 40 Grit, Pissing Razors, and legendary Bay Area thrash metal band Vio-lence (a personal favorite of Early Demise). The band is also currently righting new material, and is planning on playing a summer festival with Bone Thugz & Harmony.
March 15, 2003
March 14th's demo release show at The Pound was a great success--thanks to all who came out, as well as the other bands. If you would like to order a demo, please see the contact page.
February 22, 2003
Early Demise got its first airplay tonight on KDVS radio. The Pirate & DJ Krispy Creme, who air Friday nights at midnight, feature three great hours of ear-smashing metal.
...If you don't live in the Sacramento area, you can still listen to streaming audio over the internet even if it's a Friday night and you're not getting laid. Unless, of course, you are like the rest of us and getting laid consists of getting intimate with your internet browser, in which case you should feel free to listen to KDVS while you're getting your swerve on.
February 16, 2003
Early Demise completed production for their demo today with PopSmear Records. Engineered and Produced by Scott Llamas, the sound is great and the band is fired up to distribute the cd. We'll keep you posted as to when it will become available. The band hopes to have everything completed in time for their next gig at the Pound on March 14.
...in the meantime, check out SoundSlave! (mp3 4.2MB)
February 12, 2003
Two pieces of news to report here. First, Early Demise will be recording this weekend, February 15-16 with PopSmear Records in San Rafael. If everything goes well (which it never does!) the CD should be available for your listening pleasure within the next few weeks.
...Also, the Demise will be supporting PHIST at the Pound in San Francisco on March 14th, 2003. This will be a killer show, no question. Look out for two new songs there. By the way, are you going to eat that?
January 6, 2003
Early Demise started the new year at Rooster's Roadhouse in Alameda--thanks to those who came out. The band is currently rehearsing for recording sessions to take place in either late January or early February. Tentatively the band plans on recording four songs, probably including SoundSlave, I Will Not, Sonic Detonator, and a new one. We'll keep you posted.
December 29, 2002
Early Demise will be playing on January 3rd at Rooster's Roadhouse in Alameda. This will be the band's last show for a while as they head to the studio to record. The show is all ages.
December 15, 2002
New recordings have just been added to the music page. Early Demise recorded Sonic Detonator and I Will Not at the studio on December 14. These are pre-production demos in preparation for Early Demise's CD, to be recorded in January.
...Check out Brian on the front page of www.powerslave.com promoting a review of December 8's Twisted X.
...Be sure to catch Early Demise with Brokeneck at Bourbon Street on Saturday December 28 as we celebrate the Raiders' victory over the Chiefs.
December 9, 2002
Early Demise has scheduled studio time in early January for their demo. Rumor has it they will record at Trident...More shots have been added to the pics page so be sure to check them out.
December 6, 2002
New images have been added to the pictures page...Early Demise will play an ALL AGES show on Jan. 3 in Alameda at Roosters Roadhouse...One new song, currently under construction is tentatively called Death of the Serpent.
November 6, 2002
Not a whole hell of a lot to report here. Early Demise has a couple shows coming up and the band is currently working on 2 new songs. They plan to hit the studio for a solid demo to be out early in 2003. Holy shit! It's 2003 already? Where are all the flying cars I was promised?
November 5, 2002
New Web Site is up and running!